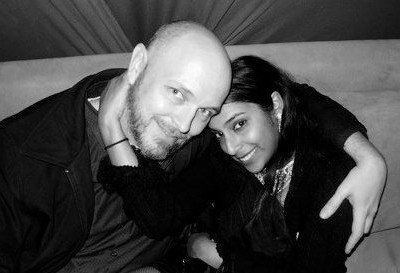 Bio
Brian Kindregan grew up in Boston, Massachusetts.
Failing to achieve the academic excellence of his siblings, he nonetheless attended Boston Latin Academy, an inner city public high school with terrible facilities, ancient text books, and awesome teachers. He worked as a waiter, short order cook, laundry truck driver, mail room clerk, and probably lots of other jobs which he subsequently blocked from his memory.
At 18, he joined the US Army reserve, serving as an infantry scout, and later a squad leader in a psychological operations unit. To achieve maximum cognitive dissonance, he divided his time between the military and art school, attending first Montseratt College of Art and Design, and then California Institute of the Arts. He studied animation, and quickly found out that he enjoyed storyboarding the most. Drawing and storytelling seemed like the perfect combination.
Brian worked in the animation industry for the next 10 or so years, primarily in features, but also with a few forays into television and live action features. He spent time at Warner Bros. Feature Animation, Disneytoon studios, Universal Pictures, Cartoon Network, and Sony Imageworks, where he storyboarded the Oscar winning short "The Chubb Chubbs!"
Eventually, Brian thought writing for games might be fun and applied to be a writer at BioWare Corp. He was hired to work on "Jade Empire", and then returned to film to direct the first two seasons of "The Zula Patrol", an educational show for the American Public Broadcasting System. After that, he worked on a few more animated projects, including a return to Disney, and a project in Jerusalem, Israel. But he'd enjoyed himself in games quite a bit, and jumped at the chance to return to BioWare for Mass Effect 2. When that project was finished, he moved over to Blizzard Entertainment to finish up the writing on StarCraft II: Wings of Liberty, as co-lead writer. He subsequently went on to be lead writer on StarCraft II: Heart of the Swarm, and Diablo III: Reaper of Souls.
He lives in Long Beach, California, with his beautiful, editor-wife, their two goofy cats and their terrifying (not) Doberman Pinscher.
Resume
Qualifications
25 years of storytelling experience
Extensive AAA development
Guided narrative for some of the largest IPs in the game industry
Successful manager of small and large teams
Writer of fan favorites, such as Abathur from StarCraft 2 and Jack from Mass Effect 2
Fluent in all phases of development, from brainstorming to shipping a game and beyond
Visual and filmic storyteller, with credits on Oscar winning projects
Veteran teacher and mentor
Enthusiastic collaborator
Experience
EPIC GAMES 2016 – Present
Narrative Director
Responsibilities:
Develop new IPs from the ground up
Guide narrative of the IP, via game story and interdepartmental efforts
Create storylines and dialogue for gameplay, scripted scenes, and cinematics
Manage writing team, handle inter and intra-departmental communication
Work closely with audio on casting, and VO direction
Manage workflow and schedule of narrative
Work with publishing to keep IP universe consistent and creative
Direct creative and logistical effots of extended universe media
Mentor studio writers
BLIZZARD ENTERTAINMENT 2009 – 2016
Lead Writer:
Diablo III: Reaper of Souls
StarCraft II: Wings of Liberty (co-lead) & StarCraft II: Heart of the Swarm
Responsibilities:
Vision Holder for narrative, charged with inspiring the team to create the story
Guide narrative of the IP, via game story and interdepartmental communication
Create storylines and dialogue for gameplay, scripted scenes, and cinematics
Work closely with cinematics team on visual storytelling
Manage and mentor writing team
Work closely with audio on casting, and VO direction
Manage workflow and schedule of narrative efforts
Work with publishing to keep IP universe consistent and creative
BIOWARE CORP 2004 – 2005, 2008 – 2009
Senior Writer
          Mass Effect 2
Jade Empire
Responsibilities:
Create storylines and dialogue
Design and script levels
Consult on film-making with cinematic team
Documentation and interdepartmental communication
FILM INDUSTRY 1990 – 2008
Storyboard Artist
Iron Giant, Space Jam, Quest for Camelot, and the rest of my credits can be found on imdb.com
Studios:
          Warner Bros, Disney, Universal, Sony Imageworks, Cartoon Network, and more
Responsibilities:
Storytelling, plot construction, character development, dialogue, pitching
US ARMY RESERVE 1988 – 1996
Sergeant
7th Psyop Group
Teaching Experience
Instructor and Speaker on Storytelling:
California Institute of the Arts
University of California, Irvine
Harvard Graduate School of Design
GDC, GDC Europe, GDC China, GDC Taipei Summit
Education
Bachelor of Fine Arts
California Institute of the Arts